Senator Rand Paul‏Verified account @RandPaul
FollowFollow @RandPaul
Earlier today, I sent the @CIA a letter inquiring about Ms. Haspel's involvement or coordination in possible surveillance of then-candidate @realDonaldTrump. I await a response.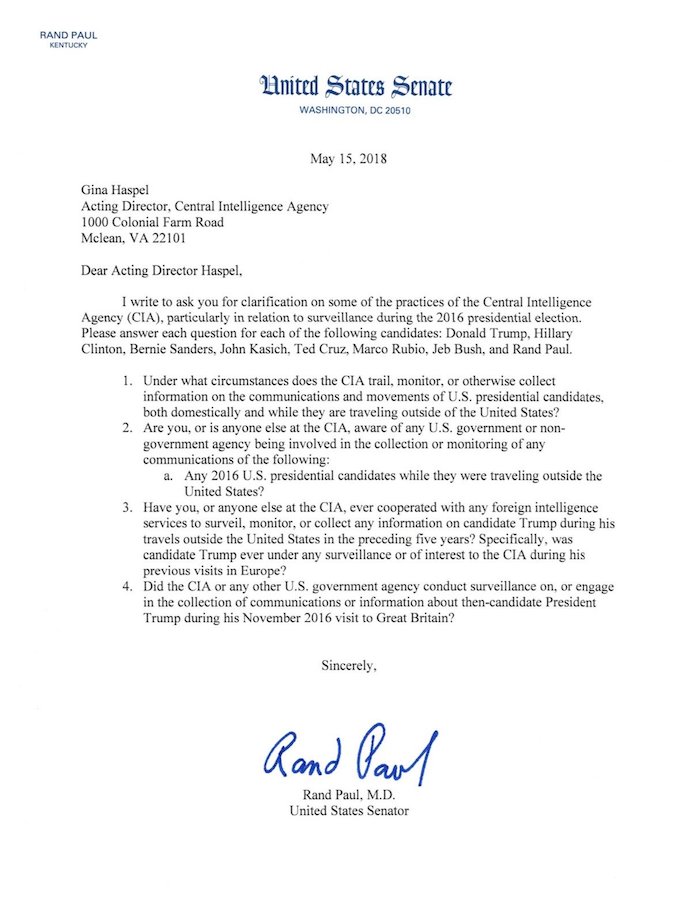 Senator Rand Paul Sends Letter to CIA Inquiring About Haspel's Involvement in Trump Campaign Surveillance
Haspel is a CIA woman who supervised torture of 9/11 men arrested overseas by the CIA.  The entire mess of 9/11 continues to amaze me.  The fact that bin Laden was kidnapped from his hideout then supposedly, with zero proof, thrown out of a helicopter into the ocean is typical of all events connected to 9/11.  I long ago knew that this was done so he could be decapitated and his skull handed over to the Bush/Cheney gang who then gave it to the Yale Skull and Bones coven.  So, Rand Paul who I like more and more as time passes, is raising objections to Haspel's CIA promotion and look: it is due to her and her gang spying on Trump, of all things!
The Deep State has been out of control most of my long life.  Right now, it is again, obvious.  Under Obama, everyone went to sleep, after mainstream fake news assured everyone that Obama wasn't a Deep State tool.  That was ridiculous, he was groomed by the Deep State and they conspired to cover up his birth overseas and other things like all his school records as well as his lack of a real birth certificate, being born in Africa.
They covered-up his application to college where he declared himself a foreign student.  These legal problems are pushed under the rug by mainstream media and the DC powerbrokers who are all Bilderberg co-conspirators.
I hammer away at the Bilderberg business because it is the most internationalist of all the Deep State operations.  It isn't just politicians, it is business, banking, educational systems, media and military operations all in one big, fat package.
Trump is not a member of this ruling elite at all.  He does play with them now that he has power, they have to play with him.  But the people he needs to run things and it isn't easy for total outsiders to run anything in DC, are co-conspirators who have animus against Trump and they very certainly hate Rand Paul.
Unlike Trump, Rand has played in DC all his life and watched his father dueling with the Deep State since earliest childhood.  Unlike Trump, he is very highly aware of Deep State powers. Note that one deranged follower of Hillary recently tried to assassinate Rand Paul while he was mowing his lawn this last year!
The Deep State very much prefers to drive outsiders mad and launch them against people the Deep State wants dead.  Rand Paul has real power in the Senate.  He has gathered some Senators and Representatives around his banner and is irritating the Deep State no end including today, once again, standing up and demanding answers to the many strange things the CIA does to our planet and populations.
Yes, the CIA is spying on Trump, desperate to find something aside from drunk stripper females to stick to him and thus, have a ridiculous excuse to destroy him since their fake Russia scam has pretty much imploded.  Why they even tried that scam baffles me since the DNC and Hillary and Obama were very entangled in Russian schemes to get money and power!
Putin played footsie with everyone who is out to get Trump these days which is just amazing, another proof that Putin plays deep state games like a pro.
And…HAHAHA.  The usual leftist hypocrisy bites the asses again.  So, all the big liberal businesses who lecture us about how we should support drug addicts and criminals and illegal aliens, want to force people on the liberal West Coast to pay for housing armies of invaders who camp out like in Europe, hoping to force citizens into supporting them for life while they commit crimes.
Great fun!  Well, forcing liberal businesses to pay for all this is great!  Put their money where their big, fat mouths are!  I am all for this and a $275 annual tax on all liberals to pay for their junk is a fantastic idea.
Of course, these evil lunatics howl with rage.  How dare they be forced to pay for their own social junkies!  Hell, they buy drugs from these people, they should house them, too.  Seattle is debating giving permission for people to house the homeless in garages and other places and thus turn the entire city into a slum.
LA officials could pay property owners to build houses for homeless: California, always the land of loonies, has already last month, decided to destroy all neighborhoods this way.  New York has already greatly restricted Airbnb rentals and many cities are outlawing these hyper-exploitation of property.
The far left itches to destroy cities, I had to deal with this deadly group of lunatics way, way back starting in 1970.  They are highly destructive.  They hate everyone and hope for riots, too.