Senator Rand Paul‏Verified account @RandPaul
FollowFollow @RandPaul
Earlier today, I sent the @CIA a letter inquiring about Ms. Haspel's involvement or coordination in possible surveillance of then-candidate @realDonaldTrump. I await a response.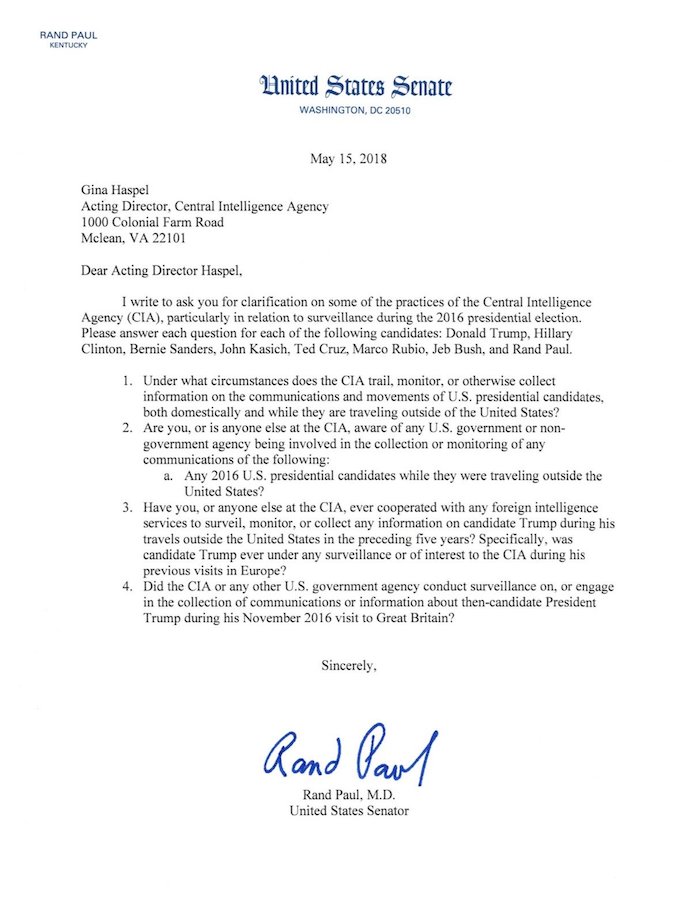 Senator Rand Paul Sends Letter to CIA Inquiring About Haspel's Involvement in Trump Campaign Surveillance
Haspel is a CIA woman who supervised torture of 9/11 men arrested overseas by the CIA.  The entire mess of 9/11 continues to amaze me.  The fact that bin Laden was kidnapped from his hideout then supposedly, with zero proof, thrown out of a helicopter into the ocean is typical of all events connected to 9/11.  I long ago knew that this was done so he could be decapitated and his skull handed over to the Bush/Cheney gang who then gave it to the Yale Skull and Bones coven.  So, Rand Paul who I like more and more as time passes, is raising objections to Haspel's CIA promotion and look: it is due to her and her gang spying on Trump, of all things!