And stocks shoot upwards again thanks to the Fed retreating from high interest rates.  Trump has earned his Pulitzer Peace Prize over and over again and the creeps in Europe who hand out this award will continue to deny him it after giving it to Obama for zero reasons.  Also, Merkel in Germany and other Bilderberg elites issue another insane demand we freeze to death as Trump ignores them even more.  Fear after the election of American hating Democrats to the House has dissipated and people are snapping up cheap stocks, laughing all the way to the bank.
And here is CNN reporting the same event:
Absolutely without exception, mainstream media misreports stuff for ideological reasons.  It is embarrassing.  Many liberals believe these blatant lies.  That is very sad.  They go about, all worked up, twisted into knots over nothing.  And worse, they think they are very smart while being kept in ignorance about reality.
You cannot communicate the truth to them, they close their eyes and ears and don't bother asking why these obvious lies are being told.  All they want is to have their own way, to heck with citizens disputing these deranged beliefs.
Flashback: Obama did exactly like Trump several years ago and the mainstream fake news praised him!
Yes, over and over again, the mainstream Bilderberg news praised Democrats and Bilderberg Republicans for doing exactly what Trump is doing now.  These incessant attacks on Trump are tiresome but also amusing in a way except too many people think this is real news which is really annoying.  A simple search for comparison stories is ridiculously easy to do!  But liberals will not do this, never, ever do this.
Despite mainstream media attempts at spooking people into destroying their own wealth, Congressional leaders in the DNC have toiled hard to spook the stock market. But it has failed: stocks shoot upwards as investors cease being spooked about the DNC grab in Congress.  
The New York Times is in total hysteria about global warming.  Yesterday morning in NY, it was 10 degrees above 0F.  Grrrr.  No global warming here.  But NYC, one of the world's biggest warm spots due to urban heat, it was a hot 25 degrees F in Manhattan.  I suppose this temperature is 'warm' to these kooks in Manhattan.
Climate 'terrorism' is very amusing except it scares the hell out of me because the Bilderberg gang especially in Europe, wants us to freeze to death:
Below is a comment by one of the readers of the Deplorable Climate Science Blog:
Yes, destruction of civilization will fix 'warm planet' problems.  Interesting in that the collapse of past civilizations have all been tied to global cooling cycles!  Cold weather means fewer crops, a vital issue being all about 'food'.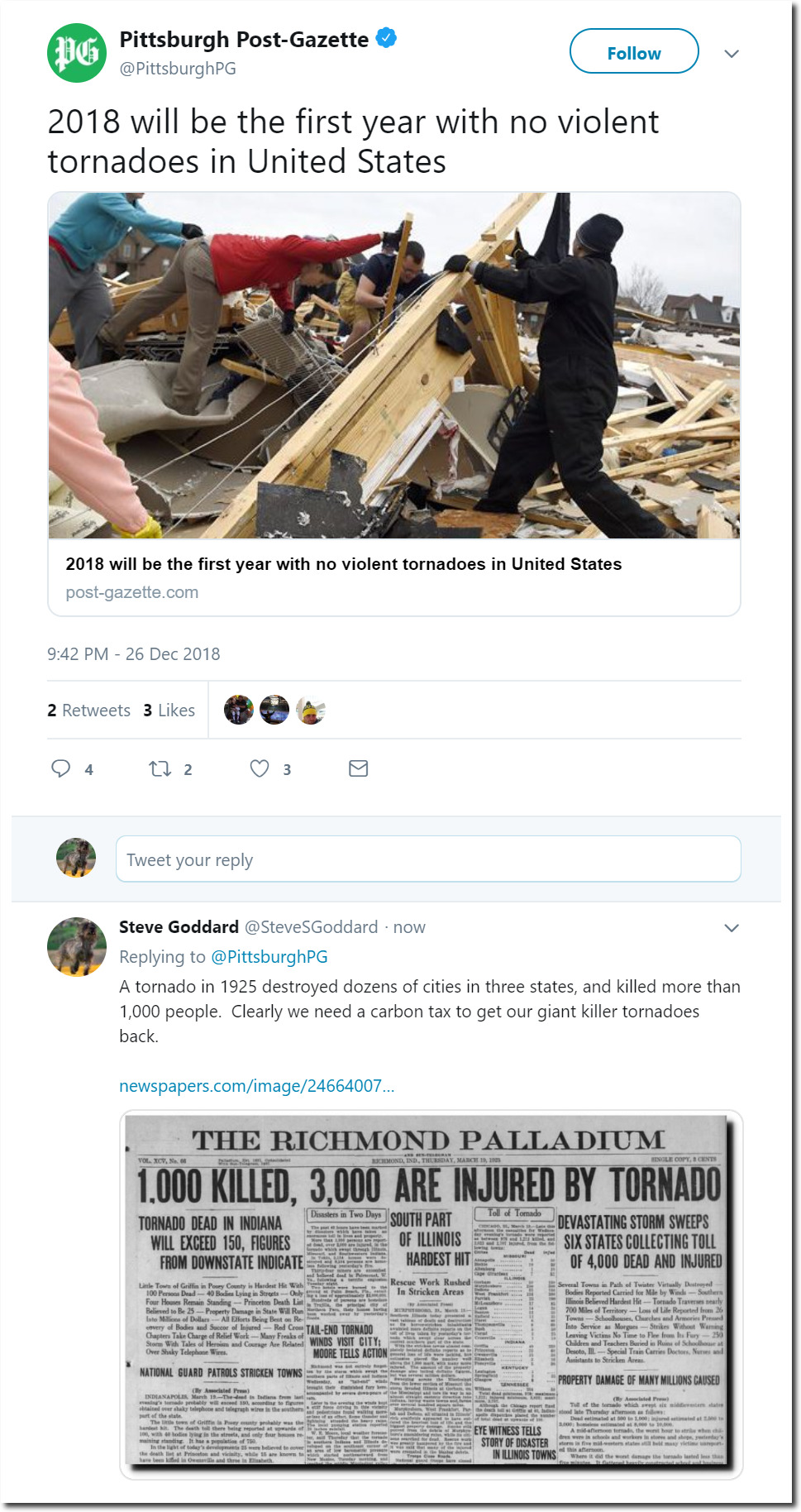 We were told in no uncertain terms that every year there would be more tornadoes, more hurricanes, more droughts.  Generally, there are all three somewhere on the planet.  The planet has many climate zones.  But the focus has been on the North Pole since the South Pole has never experienced much global warming in any previous Ice Age cycle but the North Pole and Canada has fluctuated frequently between no ice and giant ice sheets.
Liberals desperately want more climate violence.  California is great for climate and geological disasters so they focus on that insane state and declare that the entire planet is like California which is insanity.  I keep saying, the place to watch for 'global warming' or 'ice ages' is Hudson Bay but no liberal wants to watch that place, no, they all want to live in California and whine about how warm it is!  Duh.
Talk about stupid.  Move to Hudson Bay, it is nearly never hot there!